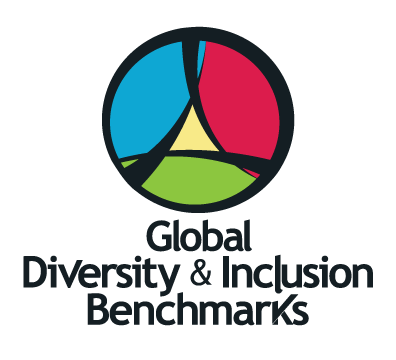 Best Practices and Applications of
The Global D&I Benchmarks
Organizations, consortiums, and countries are using the Global D&I Benchmarks to facilitate comprehensive, systemic change and show achievement of diversity goals. Here are stories of uses. In some cases a short description is provided and for others you are referred to a website. Most have a contact listed, if you'd like more information.
Also see the drop down menu under Books, Articles, and Reports for published stories of applications.
EXAMPLES OF BEST PRACTICES
Learning about Best Practices from a variety of organizations is likely to give you ideas for implementation in your organization and help your organization reach Levels 4 (Progressive) and 5 (Best Practices) in various categories. We will add examples as they become available. Please contribute by sharing your examples.
Download: Best Practices Examples.
MORE APPLICATIONS COMING
We are in the process of collecting more examples about how organizations, consortiums, and countries are applying the GDIB.
DIAN (DIVERSITY & INCLUSION ASIA NETWORK) USES GDIB AS THE BASIS FOR ITS D&I STRATEGY FRAMEWORK.
The DIAN D&I Strategy Framework was developed by Community Business, a not-for-profit organisation (Hong Kong Charity Number 91/6560) whose mission is to lead, inspire and support businesses to have a positive impact on people and communities. Community Business customized the 2011 GDIB for this project and developed a recommended approach as to how this framework could be used in Asia.
DIAN (Diversity & Inclusion in Asia Network) is a group of leading organizations committed to progressing the D&I discussion in Asia. Community Business, founded in 2003 is based in Hong Kong with a presence in India and the United Kingdom. It serves companies of all sizes in diverse industries and is recognized as a thought leader in Corporate Social Responsibility (CSR) and D&I.
THE DIVERSENZ PROJECT
DiverseNZ Inc. is a collaboration formed around a single question: How can we build our ability to manage diversity and inclusion – in our workforce, customers, partners, and investors, nationally and internationally – to create a distinctive source of value for our companies, and for New Zealand? Go to www.diverzenz.com to learn more about this project. The 2014 edition of the GDIB is one of its core resources. You may be particularly interested in seeing how they summarized the essence of the 13 categories and wrote them as action statements.
SHARE HOW YOU ARE APPLYING THE GDIB
From time to time, we will reach out to ask GDIB Users to share their stories with us about how they are using GDIB. We'll post it here—whether it's a paragraph or a full-blown story! The more we share, the more we all learn and benefit!